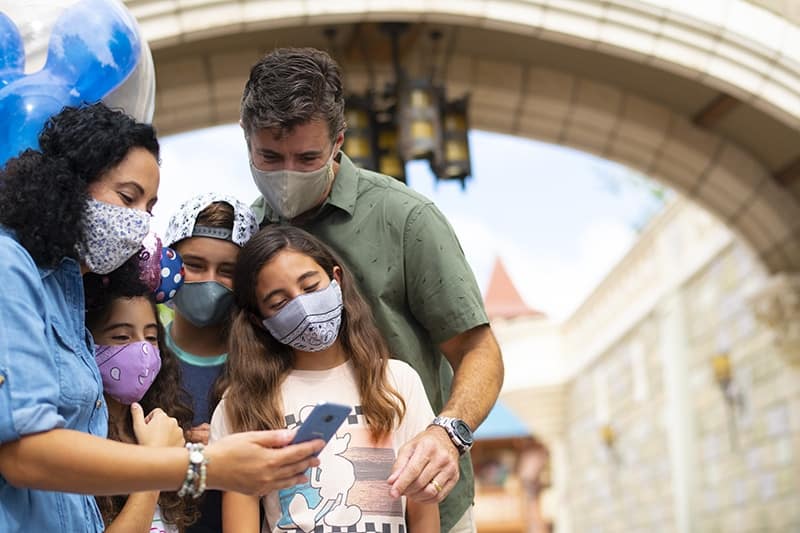 ---
With COVID-19 vaccines rolling out across the world, many Disney fans are wondering when the pandemic protocols at their favorite Disney theme parks will be lessened, specifically, when will the parks "return to normal". Some of the current pandemic protocols include; social distancing, face-covering requirements, and many beloved experiences are either heavily modified or unavailable. Visiting a Disney Park at the moment is a completely different experience compared to just a year ago.
---
What did he say?
Disney CEO Bob Chapek appears to be hopeful for 2022 as he mentioned during The Walt Disney Company's First Quarter 2021 Financial Results Conference Call. He hinted that most of 2021 will likely not see big changes but as the United States reaches herd immunity protocols such as social distancing and mask-wearing could be gone in 2022.
"I will tell you what our expectations are in terms of the state of the world by then. We have no doubt, and when we reopen up in parks that were closed, or increase the capacity, that we'll have some level of social distancing and mask-wearing for the remainder of this year.
That's our expectation. But, I believe that Dr. Fauci said earlier today that he hopes that there is vaccines for everyone who wants them by April this year. If that happens, that is a game-changer
And that could accelerate our expectations, and give people the confidence that they need to come back to the parks. Will there be overlap until we know that we have herd immunity? Sure there will. But do we believe we'll be in the same state of 6 foot social distance and mask wearing in '22? Absolutely not."
---
The "new normal" will be a slow progression in the Disney Parks as they continue to prioritize the health and safety of guests and cast members. The comments by CEO Bob Chapek are quite hopeful but do not hint at any dates or quarters so make sure you Know Before You Go.
Walt Disney World Resort currently has strict face-covering rules in place. They do not allow neck gators or face-coverings with valves. Face-coverings must cover a guests' nose and mouth as well as meet Disney face-covering specifications. Disney has recently approved face-coverings with a clear section to allow guest lips to be seen./p>
---
Current Guidelines?
Face-coverings must be worn at all times while on Disney property, including Disney Springs and Disney Resort Hotels. Guests are allowed to temporarily remove their face-covering while stationary in a designated food and drink section, in their Disney Resort hotel room, or, in a Disney Resort pool. Non-compliance with the Disney rules and regulations will result in being removed from the park.
Disney is very serious about guest compliance. They have previously gone as far as electronically adding face-coverings to guests' that removed their face-covering for the on-ride photograph. Disney has also stopped attractions mid-ride if a face-covering is removed. Cast Members are actively patrolling the parks, the parks are filled with signage, and audio reminders are broadcast throughout the parks regularly to remind guests.
Disney has recently announced that even vaccinated guests must continue to wear a face-covering in the parks.
Stay up to date on the current health and safety measures in place at Walt Disney World Resort.
Ready to start planning? Book with me, your Specializing in Selling Disney Vacations Travel Agent! Complete my quote request form to start planning your next Disney Vacation.
---
When can I visit?
The big elephant in the room that has not been addressed is that the Covid-19 vaccine is not currently approved for children. The results for children ages 12+ should be available this summer and only then will testing on children from 6-months to 11 years old begin. Reaching herd immunity in the United States is unlikely until children are approved for the vaccine.
Guests that are waiting to be vaccinated before traveling are split into two very distinct groups. On one hand, it might be the best time for an adult-only Disney Vacation while children are not approved. On the other hand, families with young children will have to wait quite a bit longer even if vaccines are readily available to the general public in the United States by April.
In Canada, the predictions seem to be very broad. The OmniCalculator website indicates I should be eligible this summer/early fall but this does not include my girls. Another report indicates that Canada might experience some delays in receiving its doses from Pfizer as Germany requested that the European Commission block the export of vaccines. Prime Minister Justin Trudeau noted that he's confident Canada will get its contracted doses. The Moderna vaccine remains on schedule and is not affected by the EU export block as it is manufactured in Switzerland.
What will it take for you to deem it safe enough to travel to Walt Disney World Resort?