Contact me, your Specializing in Selling Disney Vacations travel agent, to book your 2023 Walt Disney World Resort vacation package. Request a quote to start planning your next Disney vacation.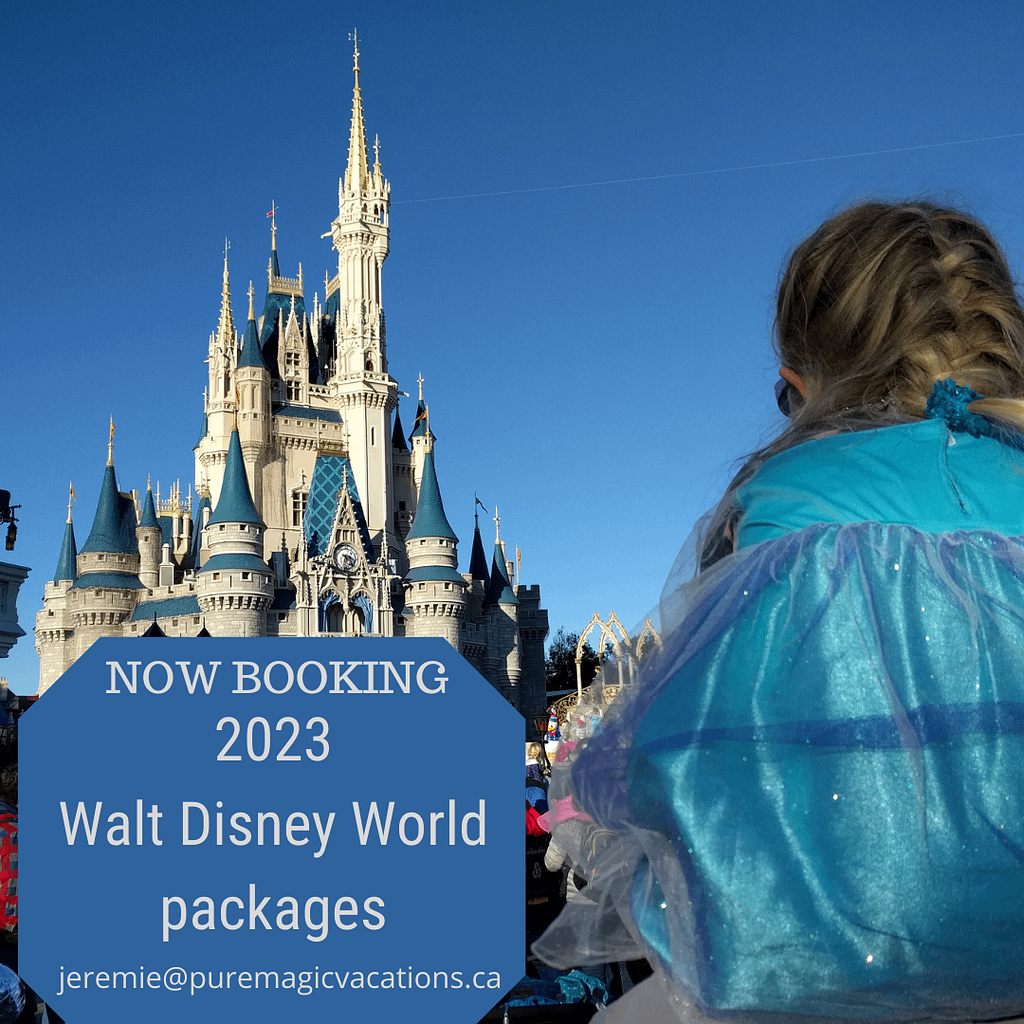 ---
Walt Disney World Vacation Package Pertinent Information
Important information for guests who have previously visited Walt Disney World Resort.
Vacation Package Changes
Early Theme Park Entry for Disney Resort Hotel Guests –

Guests staying at Disney Resort hotels and select other hotels can take advantage of a 30-minute early entry into Walt Disney World theme parks daily.

Complimentary transportation from Orlando International Airport (MCO) is no longer available. Disney's Magical Express was discontinued on Dec 31, 2021.
A Park reservation, as well as valid admission, are required to enter the theme parks.
Park Hopper is available but has changed a little. A Park Reservation is required for the first park you plan to visit. You must enter that first park prior to park hopping to another park. Park Hopping is only available starting at 2 pm.
Disney Dining Plans are currently unavailable and cannot be added to 2023 vacation packages.
Genie+ cannot be added to your vacation package.
Walt Disney World Experience Changes
Fastpass+ has been replaced by the paid Genie+ service. The service must be purchased on the day you visit the park.
Dining reservations are now available to book 60 days prior to arrival.
Some restaurants across Walt Disney World Resort are still temporarily closed or offering a modified experience.
The health and safety of Walt Disney World guests and cast members are the #1 priority. Let me know if you have any questions concerning the Know Before You Go requirements.
Vacation Package Terms and Conditions
Cancellation and Refunds
For cancellations made 30 days or more prior to guest arrival. Amounts paid will be refunded.
For cancellations made 2 days to 29 days prior to guest arrival. Amounts paid, minus a cancellation fee of $200 USD per package will be refunded.
For cancellations made 1 day or less prior to guest arrival or for no-shows. The full price of the package is non-refundable.
No refunds are given for cancellation of any personalized products or experiences.
No refunds will be made for early departure from hotel and for unused or partially used admission tickets, options or features, including meals.
Any refunds allowed by Disney in its sole discretion after arrival must be requested in writing within 90 days after departure and may be assessed a $25 processing fee.
Disney reserves the right to make refunds in accordance with the method that payment was received. All appropriate refunds will be made through the guest's travel agent if payment was made by the travel agent. Disney is not responsible for the receipt of refunded monies by guests from their travel agents.
Change Fees and Changes to Reservations Made Prior to Guest Arrival
Changes to Reservation – Changes to reservation, including but not limited to change in travel dates, length of stay, party size or hotel accommodations, are subject to availability and the prices applicable at the time the change is requested and guest is responsible for paying any increase in price resulting from the change. In addition, changes made 30 days or less prior to guest arrival are also subject to a change fee of $50 per package plus any change fees assessed by third-party hotels or other suppliers.
If changes are made to the package including, but not limited to, changes to travel dates, package is subject to the Terms and Conditions applicable to packages at the time the change to the reservation is made and, in the case of changes to travel dates, pricing applicable to the new travel dates.
Hotels and/or suppliers do not permit changes in certain situations.
Disney reserves the right to restrict changes to any reservation.
Full Terms and Conditions for your 2023 Walt Disney World Resort vacation package.