EXPERIENCE THE MAGIC!
Book with Pure Magic Vacations
TAKING YOU ON A MAGICAL ADVENTURE
Disney Vacations can bring you all around the world. Pick your destination and I'll handle the rest. Request a quote for your next Disney Vacation.
WHY USE A TRAVEL AGENT THAT SPECIALIZES IN SELLING DISNEY VACATIONS?
I am a full-service Travel Agent that specializes in selling Disney Vacations. Disney Destinations include Walt Disney World Resort in Florida, Disney Cruise Line, Disneyland Resort in California, and Adventures by Disney.
I have completed the Disney College of Knowledge as well as multiple Disney Agent Education Programs.
Most importantly, my family vacations are always to a Disney Destination. Firstly, my home away from home is Walt Disney World Resort. Secondly, I have sailed on all 4 Disney ships and followed in Walt's footsteps in Disneyland. Thirdly, and most importantly my family vacations at Walt Disney World have included stays with a 3-month-old, 2 children under 2, large groups, foodies, couples without children, people with mobility issues, people on the spectrum, and grandparents.
As a result, I have likely already experienced and learned from any issues you could experience. Passing on this knowledge is one of the crowning jewels of the services I provide to you.
My passion for Disney vacations started over 12 years ago. I have been a Travel Agent for over 7 years. I do everything I can to make your vacation as magical and as memorable as possible.
DISCOVER THE WORLD WITH A DISNEY VACATION
For those who want family vacations without the stress of planning
10 Years Of Unforgettable Vacation Planning
Disney parks and destinations are continually changing. Planning a Walt Disney World vacation can be very overwhelming, especially the dining reservations, and who wants to wait on the phone with Disney Cruise Line or Adventures by Disney. Let me take care of everything you don't want to do.
Whether it's your first visit stay in a Walt Disney World resort hotel or your 10th sailing with Disney Cruise Line. I can help you plan a magical vacation. All you have to do is enjoy the magic.
I want the memories that you and your family have of this vacation to be as memorable as the ones I have with my family.
Complete my quote request form to start planning your next Disney vacation.

ALWAYS AVAILABLE FOR ASSISTANCE
FREE VACATION PLANNING
CUSTOMERS ARE THE CORE OF MY MISSION
HAPPY MEMORIES FROM OUR TRAVELERS
My extensive in-person experience will make sure that yours is full of MAGICAL MEMORIES!
Our trip was amazing thanks to Jeremie who took care of every question or concern we had. He suggested so many little details that we would not even have thought about and everything was well planned out. I would recommend him to anyone that wants to visit Disney without worries.
Debbie
Very knowledgeable and patient, he works extra hard going above and beyond to make every detail of your trip exactly how you want it. Jeremie is quick to respond, has a great personality, and always puts his clients first.
Kimberley
I have done many trips in the last few years and Jeremie has helped plan them all. My favorite place to visit is Walt Disney World. Jeremie has been instrumental in planning our whole trip. He has organized our fast passes, booked our meals, found us the best deals, and even organized our flights. If we had any problems Jeremie took care of them for us. He is very helpful and friendly.
I would highly recommend him and his services.
Disney Lover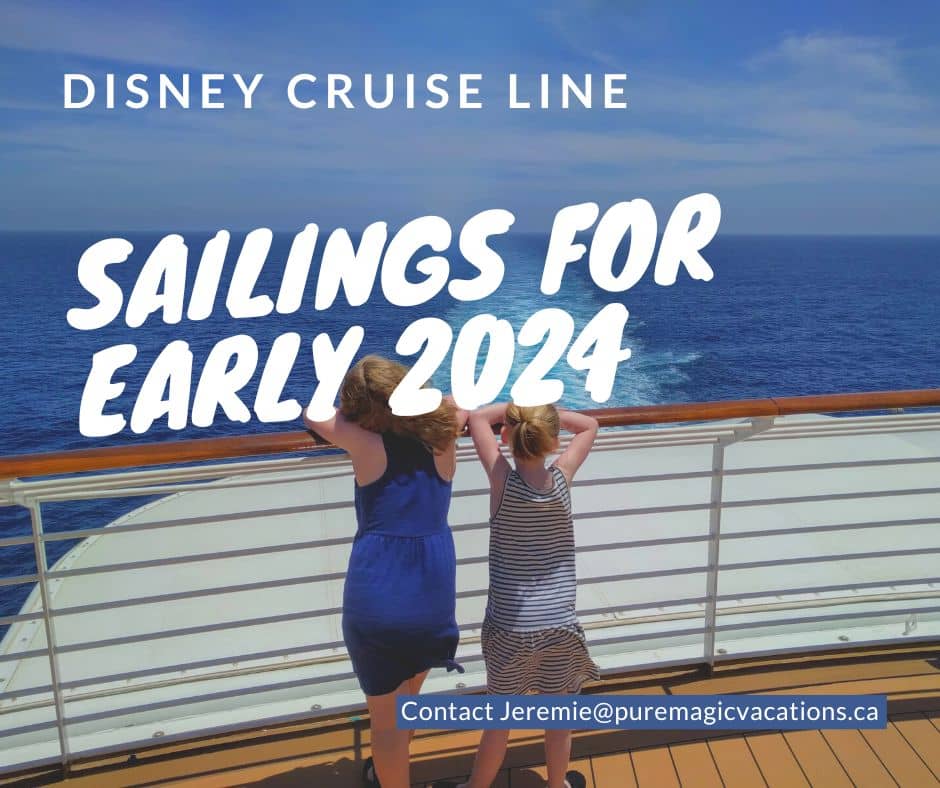 Disney Cruise Line
In early 2024, Disney Cruise Line is going to a variety of tropical locales, including the Caribbean…
Disney Cruise Line
Disney Cruise Line has enchanting fall itineraries that take families coast-to-coast in 2023, includ…
Travel Agency Information: Pure Magic Vacations Inc.
36 Killaloe Crescent
Georgetown, Ontario
L7G 5N2
416 624-8772
TICO Registration # 50025281